Casa Grande might have been a family home, or it could have been a trade center. Perhaps it was a religious complex or an astrological observatory. The truth is that nobody knows, but a trip to this intriguing national park site will leave visitors with an admiration for the ingenuity of the Ancient Sonoran Desert People as well as a lot to wonder about.
Where is it?
Casa Grande Ruins National Monument is located at 1100 W. Ruins Drive in  Coolidge, Arizona, which is about a 1-hour drive from either Phoenix or Tucson. The park features:
Visitor center
Museum
Introductory film
Self-guided tours of the site
Periodic guided tours – check with the park for dates and times
Covered picnic tables
Free admission
Access the park's website here.
Why is Casa Grande Significant?
Occupied from 450 AD to 1450 AD, Casa Grande is part of what was once a community of Hohokam (pronounced: hoho-kahm) people near the Gila River in south-central Arizona. In fact, archaeologists have found evidence of several similar communities in the area, though none have a structure like Casa Grande. Considered one of the largest prehistoric structures in North America, Casa Grande was built sometime between 1300 AD and 1350 AD. The site's first recorded history comes from the journals of Jesuit priest Father Eusebio Kino, who arrived in 1694 and gave the Great House its name. Although, by that time the site had been abandoned for almost 250 years.
The people who lived in the Casa Grande community were farmers who grew gourds, corn, beans, tobacco, and cotton. Interestingly, an elaborate system of irrigation canals provided water for the crops and the people. The park also features a mound that is believed to have been a sports arena or some type of ball field used for the same type of games that are known to have been played by the Aztec people of Mexico. These unique sports fields have also been found in other area villages. Since the people who lived at Casa Grande left no evidence of a written language, little is known about them or where they went when they left the site.
The Great House
Casa Grande is built of caliche (kuh-leechee) which is a hard clay like substance made up of mud, sand and calcium carbonate and is found underneath the topsoil in dry areas such as the Sonoran Desert. Dry caliche can be as hard as concrete which is probably why the structure has survived for so many centuries.
Perhaps the Ancient Sonoran Desert People dug up the caliche while digging their irrigation canals, and then carried it to the construction site in baskets. 
The Community
Archaeological evidence suggests that in addition to farming, Casa Grande's people also made pottery, implements, and arrowheads. Archaeologists also know that the Hohokam people were traders. Known trade items include small copper bells, parrots, and crop seed that came from Mexico. Shells from California, which were used to make jewelry, have also been found. As cotton farmers, the residents of the Casa Grande community were also weavers. Woven cotton items likely would have been a prime commodity for trade.
The park's visitor center has a wonderful museum with exhibits showing some of the pottery and implements found at Casa Grande. Between 1860 and 1880, the village was on a stagecoach route originating from a railway station about 20 miles away. Unfortunately, stage passengers who stopped at the site not only vandalized the structures, but they also collected souvenirs and scratched graffiti into the walls. We can only imagine how many priceless artifacts were pilfered before the government stepped in to protect the site.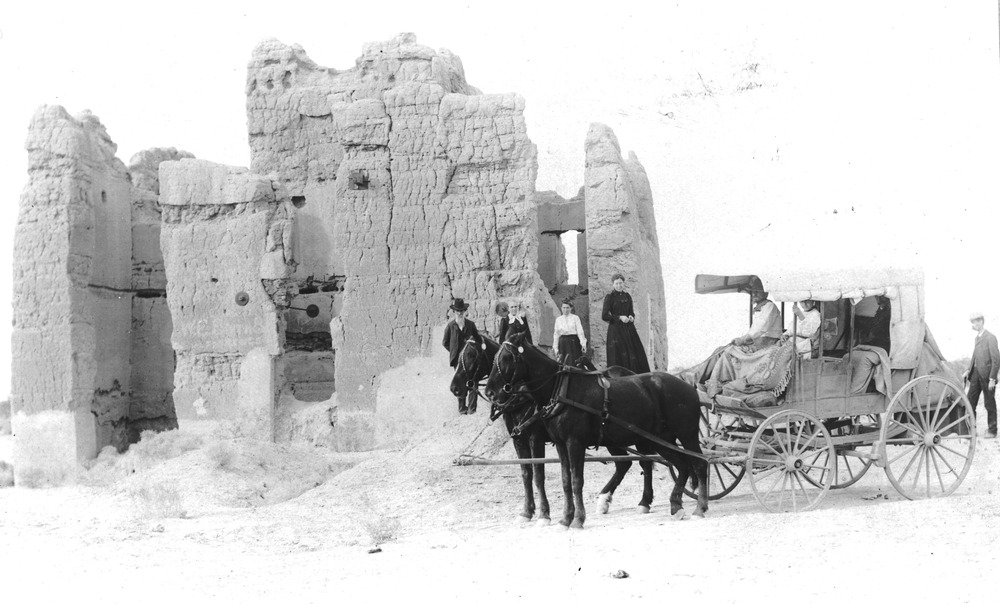 Establishment of a Park
Archaeologists and anthropologists who visited Casa Grande in the late 1800s urged the government to repair and protect the site's structures. Their convincing worked, and in 1889, congress voted to protect the site from further vandalism and erosion and began some repairs such as the rods and beams we mentioned previously.
Three years later, President Benjamin Harrison set aside one square mile of land surrounding the Great House as the first federally protected prehistoric and cultural preserve in the U.S. and called it Casa Grande Reservation.
President Woodrow Wilson designated Casa Grande Ruins as a national monument in 1918. An electrical powerplant, the visitor center, paved park road, and paved parking lot, as well as a new steel shelter for the Great House were all completed in 1932.
We were fortunate to have been able to join a ranger talk during our visit to the park. One of the most fascinating parts of the presentation was the history of the steel shelter. Designed by renowned architect Frederick Law Olmstead, Jr., the structure can withstand hurricane force winds and allows airflow around the structure while not obstructing visibility of the ruins. Its four slanted legs are actually drainpipes that allow water from the roof drain into underground pipes and away from the Great House. Now, that's ingenious!
We will close the post with one more historic photo of the Great House, courtesy of the National Forest Service.
Thank you for taking the time to visit Casa Grande Ruins National Monument with us!
While you're here, you might want to check out these other great national monuments:
Devils Tower Road Trip: Things to Do
Craters of the Moon National Monument
Safe travels, y'all!
Mike and Kellye
As always, we strive to be as accurate with our information as possible. If we made a mistake, it was unintentional. (Hey, we're only human!) Our suggestions are for places that we've heard good things about but haven't visited personally, and our opinions are our own.
©2023