Where is it?
Mammoth Cave National Park is located at 1 Visitor Center Parkway, Mammoth Cave, Kentucky.
Highlights of the park include:
Visitor center, museum, and gift shops
Cave tours – most require advance reservations and fees
Hiking, biking, and horseback riding trails
Paddling and fishing
Ranger-led programs, including night sky programs
Picnic areas
Three campgrounds for tents and RVs in addition to backcountry campsites
Mammoth Cave Lodge which includes dining options
Lodging options also include historic cottages and woodland cottages
Grab and go food options near the visitor center
Day boarding kennels for dogs and cats
Mammoth Cave is a on the National Register of Historic Places, a UNESCO World Heritage Site, an International Biosphere Reserve, and an International Dark Sky Park. Here is the park's website link: Mammoth Cave
Wi-fi and cell service can be hit and miss at Mammoth Cave, though we had some luck at the visitor center. We also do not recommend using Google Maps for directions to this park. Google took us on a much longer route than necessary. Though the best thing about the Google route is that we got to take the Green River Ferry across the river. That was definitely a first for us!
"Within National Parks is room — glorious room — room in which to find ourselves, in which to think and hope, to dream and plan, to rest and resolve."  — Enos Mills
Historic facts about Mammoth Cave
The cave has been known since prehistoric times. Artifacts such as bowls and woven sandals have been found inside.
An ancient burial site containing the preserved remains of a Native American woman was found in the early 1800s. At one time, the remains were on display for visitors to the cave but are now in the possession of the Smithsonian Institute.
In 1935 the remains of another ancient Native American, a man who had been crushed by a large rock, were found by Civilian Conservation Corps workers in the cave. His remains were also displayed until public distaste for viewing them caused the park to remove them from view. The man was then buried in a secret location inside the cave.
During the War of 1812, saltpeter, an ingredient used in making gun powder, was mined by enslaved African American workers at Mammoth Cave. Remains of the mine can still be seen today at the Historic Entrance.
Tourists began arriving at Mammoth Cave as early as 1816, and the former miners who were familiar with the cave served as tour guides.
In 1842, Dr. John Croghan established an experimental tuberculosis treatment facility inside Mammoth Cave which he had previously purchased for $10,000.00. After several patients died, Croghan ended his experiment. Dr. Croghan died of tuberculosis in 1849. Two of the huts he built for his patients to live in can still be seen today.
Mammoth Cave is the longest known cave system in the world. About 400 miles of the cave have been explored, with 600 additional miles left unexplored!
After years of work went into acquiring the land and creating the park's infrastructure, Mammoth Cave National Park was dedicated on July 1, 1941.
Green River Bluffs Trail
Our visit to the park started with a hike on the Green River Bluffs Trail, which came recommended by a ranger in the visitor center. We had only a couple of hours to spare before our Frozen Niagara cave tour began, so this turned out to be the perfect hike for us. We were even back at the visitor center in time to enjoy a parking lot picnic lunch.
We found this trail to be easy with only a few steep inclines. After the Green River overlook, we took the Dixon Cave Trail as part of the loop back to the visitor center.
According to park information, Dixon Cave was part of Mammoth Cave about a million years ago. The collapse of a sinkhole caused Dixon to be cut off from Mammoth, however, the event created Mammoth's Historic Entrance. This cave is not accessible to humans due to the endangered Indiana bats that hibernate there in the winter months. Interestingly, Dixon Cave maintains a steady temperature of 44 degrees F (7 degrees C), which makes conditions perfect for the bats to hibernate.
Trivia: There are 14 species of cave dwelling animals in Mammoth Cave that are found nowhere else in the world.
Frozen Niagara Tour
Advance reservations for cave tours are highly recommended and can made through Recreation.gov. Click here to see detailed tour listings as well as pricing for each of the tours. We made our cave tour reservations about a month before our trip and got the last two places in our preferred time slot. To begin many of the cave tours, ticketed visitors meet in a pavilion near the visitor center. Park buses then carry the groups to the cave entrance to begin their tour.
Our ranger-guides told us on the bus ride that we were going to see the most beautiful cave entrance in all of Mammoth Cave National Park. While we envisioned something similar to the Historic Entrance, that is not what it was at all!
The photos above and below are views from the Frozen Niagara tour. Flash photography is not permitted in the cave, and the guides keep the tour groups moving which makes it difficult to get good shots. Our photos do not do justice to the way it really looks; the cave is much more beautiful and interesting in person.
Unfortunately, our shots of the Frozen Niagara formation did not turn out, so we have borrowed one from the National Park Service and Deb Spillman. Her shot shows the beauty of the incredible formation.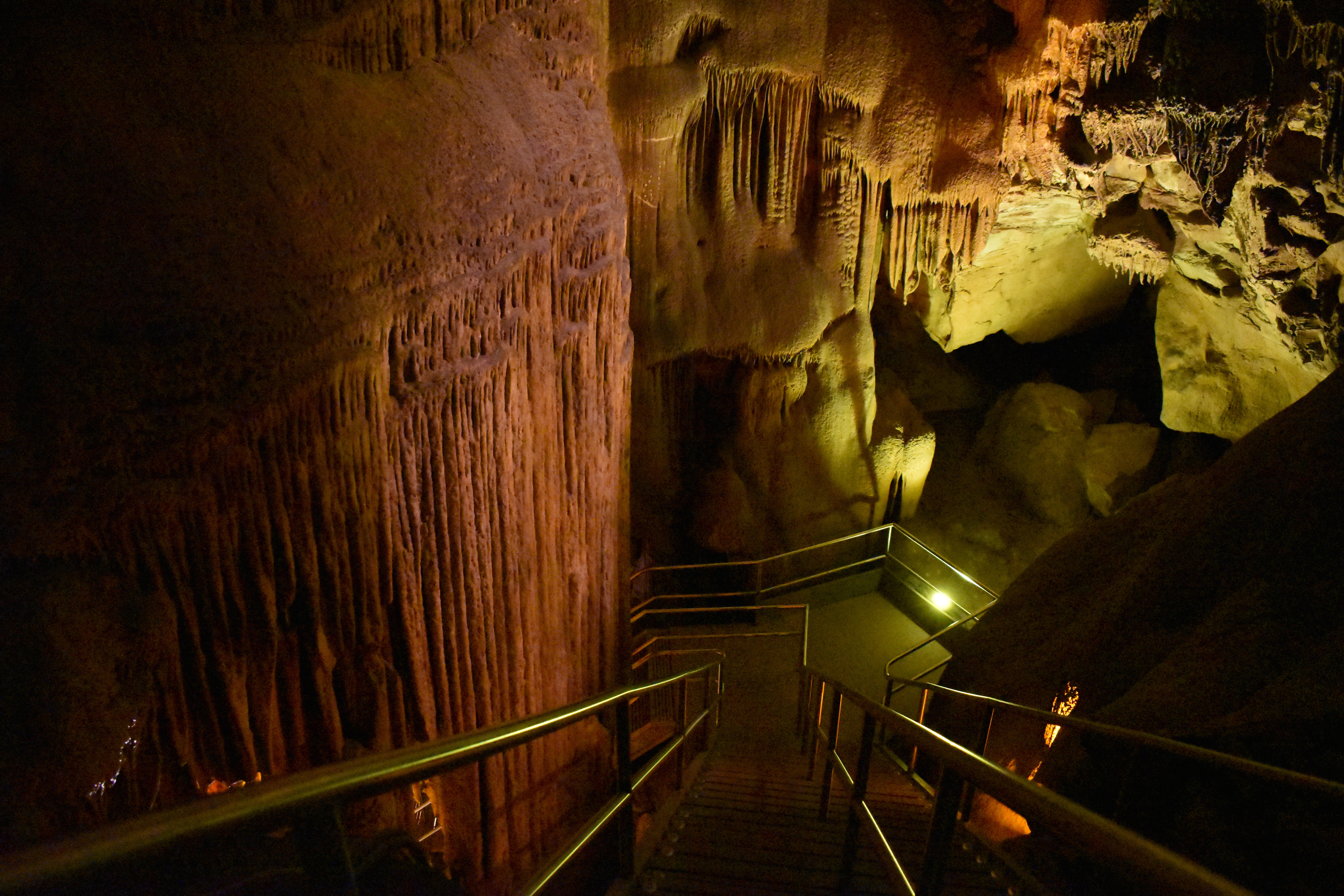 Thank you so much for joining us on our visit to Mammoth Cave National Park! We hope you will join us again for another great national park or road trip destination.

If you would like to visit more national parks, click on these:
Travel safe, and we will see you on the road.
Mike and Kellye
As always, we strive to be as accurate with our information as possible. If we made a mistake, it was unintentional. (Hey, we're only human!) We aren't paid for our recommendations, and we only recommend our own tried and true vendors and venues. Our suggestions are for places that we've heard good things about but haven't visited personally, and our opinions are our own.
©2022